Free Walking Tour Palermo
Join the Free Welcome Tour of Palermo!
Get to know the city led by a local tour guide!
FREE BEER INCLUDED!
Join our free walking tour of Palermo, follow your Freely guide through the shady backstreets and the bright elegant squares of the city center, learn about stories and facts that make this city so unique.
Twenty-six centuries of glorious history and fine culture impressed on every single stone of the old city centre. What better way to feel this if not… by walking!
We run a Palermo free walking tour that combines history & art with daily life, traditions and cuisine. A full bouquet of Palermo shades and scents. Our itinerary is purely a Palermo Welcome Tour. We will be happy to introduce you to our culture without filters of any kind which means that we won't only show you and talk about the bright side of the city but also about its dark shadows.
You wanna see the main historical attractions of Palermo? This is the right tour! You want to see a food market? Freely's Palermo Welcome Tour is still the right answer!
"Beauty and Decay, Death and Resurrection" this is how we better describe our beloved city. A place that never dies, that never succeeds, that never fails. Palermo needs love. And talking about love, we Freely guides are 100% Palermitans, we love our city and we want you to love it too!
Trust us: a Palermo tour by locals is what you need to get in touch with the real, authentic soul of this lively city.
When?

Check calendar!

Meeting point

Via Maqueda 453 (opposite Teatro Massimo). Find your guide with the badge and the FREELY sign

Duration

2 hrs

Type

Introductory tour of Palermo city center

Price

Free tip!
SEE ITINERARY
RESERVE YOUR SPOT!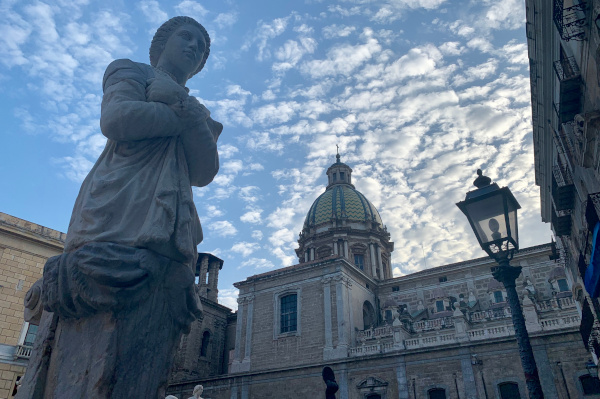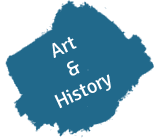 Free Palermo walking tour: What to Expect
The itinerary covers different type of attractions: backstreets, main monumental squares. We will start with a Welcome Beer that we have the pleasure to offer you! We will show you the place where the patron saint of Palermo was born, only few steps away from our favorite bars of Palermo. We will walk you to the main crossroad of the city center where you will learn some fun street stories.  The free guided tour of Palermo starts from the Bar Ruvolo, situated right opposite the opera house Teatro Massimo and ends at the Cathedral. 
During the Free Palermo Welcome tour you will get all the directions and tips you need to enjoy the rest of your stay like a real local. We will recommend you our favorite wine bars, restaurants. We will give you the right contacts to do fun activities in Palermo doing so build up a memorable experience in town!
This Free Walking tour of Palermo is the ideal activity for travellers who want to learn and understand our culture without filters.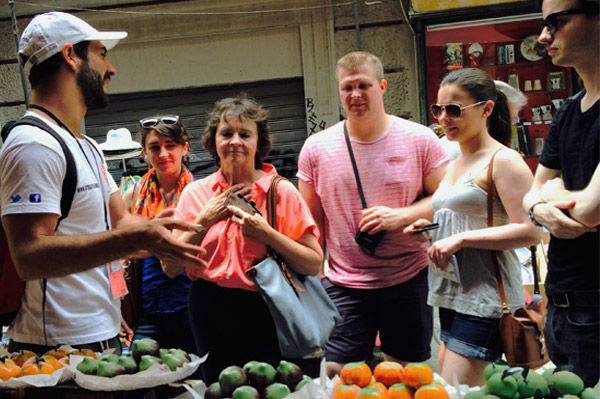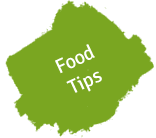 Highlights of our Palermo free walking tour
Orientation walk around the city center (ideal for newcomers!
Main information about Palermo's history and art
Insights on Sicilian traditions, habits and social issues
Tips for restaurant and leisure moments
Presentation of other activities (events, tours, excursions)
Is this tour free?
Like all free walking tours around the world, this Palermo Welcome Tour does not require the purchase of a ticket for a specific amount. However, "free" stands for "free tip" , so you can leave your guide any amount based on your appreciation of the guide's performance and also the overall quality of the tour. Reserve your spot to make sure you live the Palermo experience with Freely!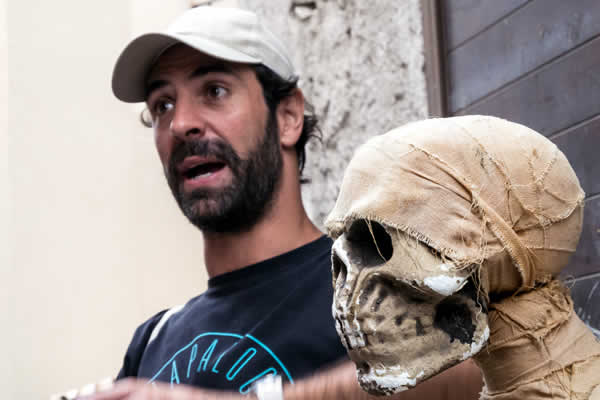 The free walking tour of Palermo is a great introductory activity to the city. First of all it will make you relax and shake off all the stereotypes that affect the reputation of the Sicilian capital. Secondly, it will give you a local perspective and filterless understanding of its people. What else? Come join us, you will be more than Welcome to Palermo!
Private tour option
We can also arrange private tours of Palermo on request. We will design an itinerary based on your interests! Private walking tours are delivered for a specific price based on average Sicilian tour guides' hourly rates. To request a private tour go to "contact us" page. And…If you want to have a deeper dive into the local cuisine, book with our partner Streaty a Palermo street food tour!